Centrally located between the headwaters of both the Androscoggin and Kennebec Rivers, Rangeley has long been one of Maine's logging centers. Native Americans used the forest of spruce, balsam fir, beech, birch, and poplar for their homes, canoes, foods, and medicines.
Timber rights attracted the first white settlers to the area in 1794, and 1833 saw the beginning of the first woods industry shingle mill. Several decades later, booms of logs and, later, pulp were towed across Rangeley's lakes and driven down her rivers.
Rangeley's forests were home to some of the last stands of virgin spruce. This rich heritage, combined with active logging operations, makes Rangeley an ideal location for a museum dedicated to western Maine's timber heritage.
In 1968, logger Rodney Richard watched as a Brown Paper Company foreman was about to push an old snubbing machine over a bank. "If you're going to do that," Rodney called out, "I'll take it home." He did and his dream of a logging museum began to take shape.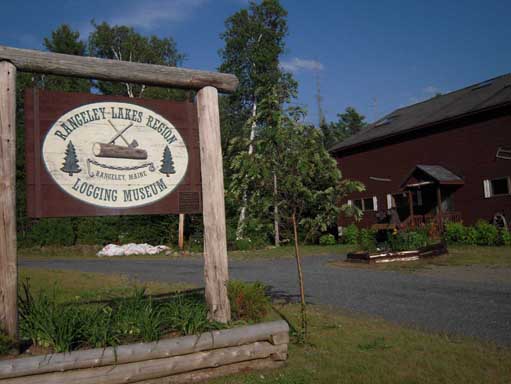 In 1979, Rodney, with a group of loggers, homemakers, and area residents, founded the Rangeley Lakes Region Logging Museum, intent on collecting materials and raising money for land and buildings.
Today, a three-story Main Building stands on an eighteen-acre site, just one mile east of Rangeley on Route 16. The photograph to the right shows the interior of the Museum. A Caliper scale rule and other logging tools hang upon the walls, along with the paintings of Alden Grant.
The Museum is open Wednesday through Sunday, 11-5, and by appointment. Our collection now consists of hundreds of artifacts from regional logging operations, including two snubbing machines, sleds, an extensive collection of crosscut and chain saws, the White Brothers' forerunner of the skidder, and one of the last of the bateaux used on the Dead River drives. Our exhibits on traditional art by western Maine lumbermen include the fan towers and gumbooks of William Richard, the model drag drays and logging sleds of Carl Trafton, and the chain saw carvings of Rodney Richard and Rodney Richard Junior. And, we also own the nineteen oil paintings of Alden Grant (pictured below), grandson of the founder of Grants' Kennebago Camps that document life in the region's lumbercamps from 1915 to 1928.
In 1994, we published Logging in the Maine Woods: The Paintings of Alden Grant, an 80-page book with essays about Grant and life in the timberwoods, illustrated with a color photograph of each painting.
Every year on the last Friday and Saturday in July, we sponsor the Logging Festival Days in Rangeley to celebrate the region's timber heritage. Activities include a Friday afternoon burying of the beans, logging camp style; a Friday evening program of music, entertainment, and a Loggers' Hall of Fame; and a Saturday morning parade of floats, bands, and logging equipment. Saturday afternoon is filled with more music, artists & crafters, a woodsmen's competition with chain sawing, pulp piling, axe throwing, and more, and the best beanhole bean noon meal in the northeast. Throughout the weekend, the Museum and its exhibits are open to the public.
Margaret (Peggy) Yocom,
Museum Folklorist
yocom@rlrlm.org